Community Crops Education & Classes

Come learn with us! Classes and workshops are offered throughout the year on gardening and farming topics, cooking, and sustainable living.
Urban Grower Classes
This class series, running 2023 through 2025 will focus on teaching sustainable growing skills for gardeners and farmers. Class formats may vary between field days, lectures, online classes, and other alternative formats. Registration is required, but classes are free!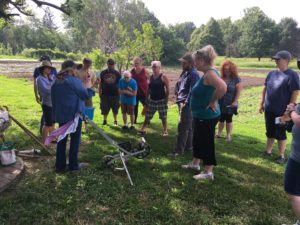 Accommodations for translation can be made by request, and there is a question in the registration regarding translation needs. Please contact us with any questions.
Upcoming Classes
September 21st, 6pm – 8p, at the Antelope Park Church of the Brethren: Preserve Your Harvest with Water Bath Canning 
Learn how to use the water bath canning method to preserve the abundance of your garden. Skilled canner Dawn Prelle, of Moma Prelle's, will lead participants through the steps of water bath canning with seasonal vegetables and discuss general canning safety. This class will have both discussion and hands on elements. 
Register for Preserve Your Harvest with Water Bath Canning
September 23rd, 11am – 12am, at the Lake St. Microfarm: Cover Cropping Skill Share 
This skill share style class will show participants how to use cover cropping to maintain good soil health. Minimal disturbance bed prep, seeding techniques, irrigation, and mulching will be demonstrated with cover crops suitable for fall and winter. Participants will have the opportunity to practice the techniques discussed during this course. 
Register for Cover Cropping Skill-share
September 26th, 6pm – 7:30pm, at the Lake St. Microfarm: Explore Biochar!
Get to know biochar, with expert Nash Leef of Salt Creek Farmers Co-op! Participants will learn about what biochar is, how it is made, and its' applications in organic farm and garden systems. This class will include a demonstration of how to apply and incorporate biochar as a soil amendment. 
September 27th, 6pm – 7:30pm, at the Family Service Lincoln office: Cover Cropping Basics for Soil Health
Learn about how to incorporate cover cropping in your garden to manage fertility and overall soil health. This will be a lecture based class that will cover different types of cover crops and their functions as well as how to manage cover crop plantings from seeding to termination. Creating cover crop mixes and seeding rates will be discussed. 
Register for Cover Cropping Basics for Soil Health