Crops Youth Programs
Mickle Middle School
Our Young Urban Farmers Club at Mickle Middle School has been very popular, thanks to major improvements to the garden space. We added nearly 200 square feet of raised beds in the hoop house, built seven new planter beds in the garden space, and planted two apple trees and numerous perennial flowers.
Youth participants spend time in the garden growing and eating food while learning science, math and art. By participating in growing their own food, these kids become better eaters, more aware of their own health and more connected to nature and the environment. The Young Urban Farmers Club also provides kids with engaging, unstructured activity in the outdoors.
Dawes Middle School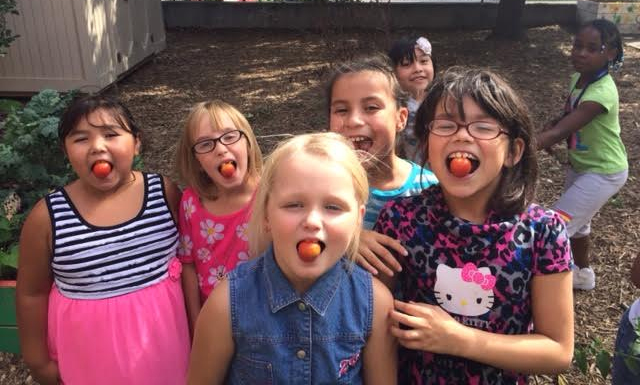 With the success of our youth program at Mickle Middle School, Community Crops joined in collaboration with NeighborWorks Community Learning Center to bring youth programming to Dawes Middle School. Four days a week, we are providing students with lessons on gardening, nutrition, cooking and art. These programs bring opportunities for much needed physical activity and lessons on nutrition, healthy eating, cooking and basic organic gardening practices. Raised beds provide space for students to grow their own food on school grounds.
Everett Elementary School
Everett has a small garden now, and is planning a large garden and Outdoor Classroom project. Stay tuned for details!
For more information on the Crops Youth Program or to set up a session with students, contact Nicole at (402) 474-9802 or nicole@communitycrops.org.