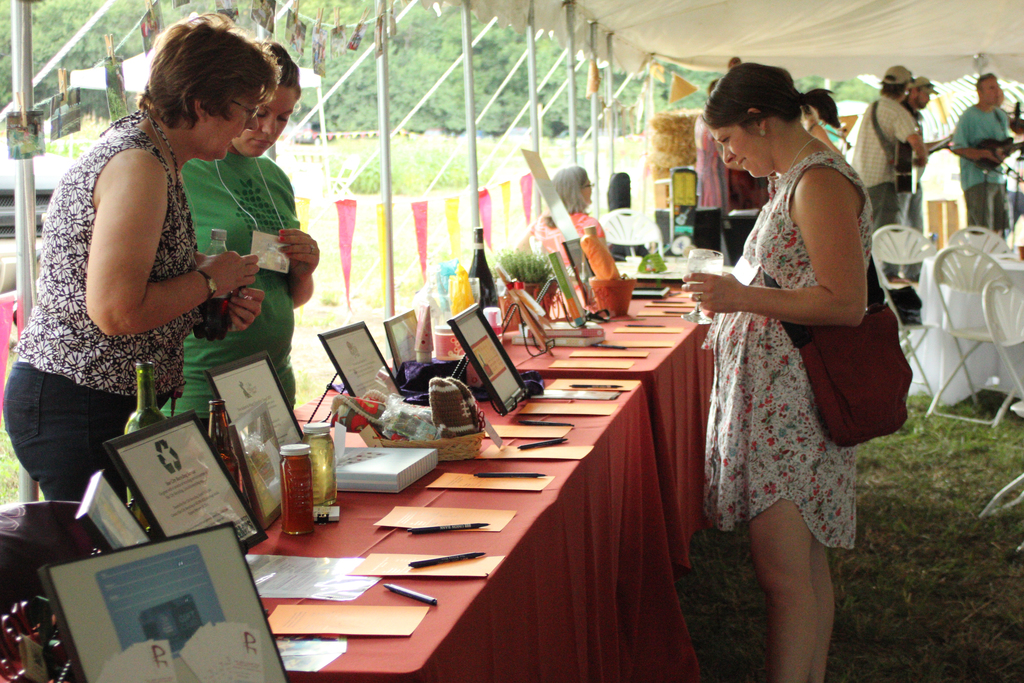 Feast on the Farm Silent Auction
Here's just some of the auction items that will be available at the Feast:
  1.  Downtown Experience #1
Enjoy the best of downtown shopping and lunch with:  $50 Gift Certificate to Tsuru Boutique, $25 gift certificate to Stella's Collective, Footloose and Fancy, and a $25 gift card to Honest Abe's Burgers & Freedom.
 Downtown Arts #1
Enjoy nights out with friends at the Ross Theater!
 Elayne Woods Photography Package
Enjoy a 30-minute photo session with Elayne Woods Photography and get some great images!
 College View Sampling with Pumps and Pampering
After a day of shoe shopping who doesn't enjoy some pampering?  You get both with this package which includes a $50 gift certificate to Pattino Shoe Boutique and a $50 gift certificate to Bella's Spa, both located in the charming College View neighborhood.
 Where Does Your Food Grow?
Enjoy a one-hour tour of Jones Produce Farm with former Crops employee/farmer, Justin Jones.  Fresh produce is included, so bring your bag!
 Gardening Package
Spruce up your garden with owl garden art provided by Finke Gardens and two gardening books.
  Farmer's Table Dinner  Enjoy a Chef Selected Three-Course Dinner for FOUR at the beautiful Prairie Plate Restaurant.  This farm-to-table restaurant offers a lakeside dining experience and is located in a rural setting just north of Lincoln.
 New Belgium Brewing Package
Merchandise and beer provided by New Belgium Brewing Company.
 Cooking Package
Enjoy two classes offered by Community Crops and a basket of homemade pasta by Capo di Tutto Pasta.
 Wine Tasting & Appetizers
Tim Burke has spent most of his life selling, drinking and writing about wine. His insights can be found in L Magazine and now you can experience them yourself! Tim will prepare 5 appetizers and match them with 5 wines for a delectable experience for 12 in the comfort of your own home.
 Prep Your Garden
Make your gardening life easier with this Southland SFTT160 Front Tine Tiller donated by ??.
 Sports Lover Package
Enjoy two tickets to a Kansas City Royals home game; Stormchasers merchandise; and  a gift basket from U-Stop with items perfect for a road trip.
 For the Music Lover
Enjoy several world class concerts with two season passes from Friends of Chamber Music, one of the oldest presenters of chamber music in the world.  Concerts begin in September 2016 and run through 2017.
 For the Art Lover
Ceramic cream and sugar dishes made by a local artist and $40 gift certificate to LUX Center for the Arts.
 For the Flower Lover:  Four one-day passes to the beautiful Lauritzen Gardens, as well as two gardening books.
 Autumn Getaway
Enjoy autumn's magnificent colors during a one night's stay and complimentary breakfast at the beautiful Lied Lodge & Conference Center at Arbor Day Farms.
 Photo Ark Print  This print from Lincoln's own National Geographic photographer Joel Sartore, includes just a few of the thousands of endangered birds and animals photographed for the Photo Ark project.
 Kathy Plunkett Photography Package
Enjoy a mini-photo session offered by Kathy Plunkett Photography.
 Defy Escape!
This package will be sure to entertain!  Enjoy a 30 minute jump session at Defy Gravity trampoline park, and a voucher for two to the Lincoln Escape Room, where a mental adventure awaits.  Are you up for the challenge?
 Beautify your Landscape
Do you need new ideas for your landscape?  Wonder about an area of your yard that seems to resist any type of growth, or you simply need some inspiration?  Landscaping Consultant, Shelley Stoltenberg will provide a free assessment of your landscape and provide practical ideas for enhancement.
  Local Brews
Enjoy a sample flight, and a growler fill provided by Blue Blood Brewery, as well as two six packs of this local brew.  What a perfect time to check out their new location at Robber's Cave.
  Regional Brews #2
Enjoy merchandise, a $20 gift card, and a 4-pack of beer from Minnesota based Surly Brewing Company.
  Fun Fitness
Get fit and have fun at the same time. Enjoy one free month of Jazzercise plus water bottle with this fitness package.
 Husker Football!
Enjoy two tickets to the September 3rd, Fresno State game with nearly unbeatable seats in Section 4, Row 32.
  Prescott Street Shops
If you don't already love the College View Neighborhood, you will after this shopping experience.  Check out the one of a kind baby and home items with a $40 gift certificate and adorable broccoli rattle from Paper Kite; a scarf and elegant cookbook from Select Style boutique, and select merchandise and coffee from The Mill Coffee and Tea.
 Create a Beautiful Home
Let's get organized!   Enjoy a free consultation with Donna the Organizer, as well as adorable blue bird door art provided by Tracey Bonneau with Doors & More.
 Downtown Arts Experience #2
Enjoy tickets to the Twyla Tharp Dance Company's 50th Anniversary Tour at the Lied Center for Performing Arts.
 Downtown Experience #2
Enjoy the best downtown has to offer with tickets and merchandise from the Zoo Bar, a package of cigars from Jake's Cigar Bar, and two $50 gift certificates to Iron Brush Tattoo.
   Stretch Yourself!
Enjoy a private session at The Road to OM! and a basket of lovely scented personal care items from Amy Gagner Yoga.
Art Available to Purchase
Beautiful outdoor sculptures created by two local artists, Cuddy's Creations and Mike Fluent Artworks.
Photography Package
Donate $99 to Community Crops and you will receive a package valued at $500 from Sunny & Shane Photography!
Thanks to These Additional Feast Supporters:
Cutts Floral Distributors
Drew Nelson
Midnight Wanderers
Meier's Cork & Bottle
Frontier Bank
Nebraska Statewide Arboretum
Cuddy's Creations
Fluent Artworks
Hangers Cleaners
Wine Raffle Donors:
Bin 105
Meier's Cork & Bottle
Glacial Till Winery
Italian Vine
Community Crops' Board Members